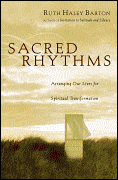 I picked this book up as a "quick read" while looking for a new series to teach in Sunday School. It
became
the basis for my most recent Sunday School series. I have taught on spiritual disciplines a few times in the past but had never made the connection of how applying the disciplines will in fact allow us to arrange our lives to be responsive to the transformation process that the Spirit wishes to take us on.
That is the
essence
of this book; to arrange our lives in a way to become who God intends us to be. It has been most interesting to see how engaged the class has become in the discussions on these topics. That has shown me just how true these ring in the lives of those seeking the Father. Yet another reminder that we should not be trying to live our journeys alone but should rather be seeking out one another in an effort to do life together. The enemy seeks to isolate us and thus make us easy prey for his attacks.
While the material in this book is not something new to most who have studied spiritual discipline in the past, it is presented in a way that will give fresh insight to the young
believer
as well as the seasoned pilgrim. It is refreshing to see the author's honesty and transparency about her own personal journey of spiritual transformation. That was perhaps my biggest draw to the book. It is such a
different
perspective to learn from someone who you feel is on the road with you rather than one who seems to speak from a position of superiority.
I would recommend the book to anyone who is
truly
at a place where they are willing to open themselves to the Spirit and respond to His call to be transformed into Christ's likeness. The book can be read in a quick fashion but I think that the most can be gained by digesting it slowly over a period of weeks rather than a few days. I believe that it is also a book that I will return to as a
reference
for personal study as well as teaching.